Some recent truckload demand indexes align to paint a gloomy picture for truckload carriers looking for a rebound in freight demand this year. So far, many of the publicly traded trucking companies reported that they didn't see the usual seasonal bounce in freight volumes in March that they expected, according to Prof. Jason Miller at Michigan State University (MSU). The MSU for-hire trucking ton-mile index (TTMI) saw a seasonally adjusted decline of 0.7% m/m in March and was down 2.7% from March 2022 (the high-water mark in the index's history). According to Miller, "TTMI shows no signs yet that we will be exiting this freight recession soon, though hopefully, we won't go back to the even lower levels that we saw in December 2022. Carriers should expect aggregate demand for trucking to be 2.0% to 3.0% below levels this time in 2022 until we reach the back half of the year when comps become easier."
The Cass Shipments Index for April reported a similar trend falling 2.4% y/y as freight markets continue to work through an extended soft patch. In seasonally adjusted (SA) terms, the index declined 1.3% m/m in April, following a sizable 3.8% m/m drop in March. Tim Denoyer from ACT Research said, "Amid the ongoing soft backdrop, warm weather has pulled some freight into January/February this year from March/April. But several higher frequency freight data series started April very soft and improved through the month and into May. This augers toward a seasonal improvement in May, though the y/y decline may still worsen on a tough comp against inventory building a year ago.
Market Watch
All rates cited below exclude fuel surcharges unless otherwise noted.
Available dry van capacity across the nation tightened slightly in 40 of the 48 contiguous states last week. Linehaul rates in the Top 5 states based on spot market volume, California, Georgia, Illinois, New Jersey, and Texas, increased by $0.03/mile last week to an average of $1.88/mile. California outbound rates have been steadily climbing since the start of April, coinciding with increasing Asian import volumes, and at $2.09/mile, have increased by $0.30/mile over that timeframe.
In Ontario, the most significant spot market in the state, linehaul rates increased by $0.03/mile w/w to $1.88/mile, while in neighboring Los Angeles, rates increased by $0.04/mile to $1.80/mile for outbound loads. Loads 2,000 miles to Chicago were paying $1.31/mile last week, the highest since February, $0.32/mile lower than the previous year, and almost $2.00/mile lower than the high of $3.26/mile reported in December 2021 at the height of port congestion and imports in Los Angeles.
In Chicago, linehaul rates increased for the third week following last week's $0.02/mile gain to an average of $1.89/mile. Joliet outbound rates followed a similar trend averaging $1.93/mile the previous week. On the Chicago to Indianapolis short-haul lane, spot rates were flat last week at $576/load after dropping for the previous five months. Outbound linehaul rates continue to climb in the Southeast, and at $1.98/mile, regional rates have increased by $0.32/mile since April and are currently around $0.20/mile higher than in 2019.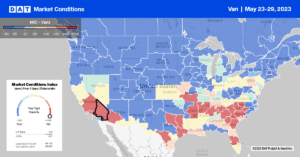 Load-to-Truck Ratio (LTR)
Following the surge in volume the week prior, load posts dropped by 13% last week and are now around half what they were a year ago. Carrier equipment posts increased by just over 1% w/w, resulting in the dry van load-to-truck ratio (LTR) decreasing by 15% w/w from 3.24 to 2.77.
Linehaul Spot Rates
Following the prior week's surge in spot rates, dry van linehaul rates were up again last week, increasing by just over $0.02/mile to a national average of $1.71/mile. Based on the volume of loads moved the average rate for the top 50 dry van lanes was $0.26/mile higher at $1.97/mile last week.